Financing
There are some advantages to financing rather than paying cash for your new sailboat. First, financing your boat preserves your cash for other investments and can allow cash for add-ons or improvements after the sale. Second, you may be able to claim the boat as a second home and deduct the interest payments from your taxes. Third, it may allow you to purchase a newer or larger boat that better fits your needs.
It is important to know that boat loans have higher lending criteria than home loans due to the nature of the collateral, ongoing upkeep costs, and credit score requirements. Boats are viewed as higher-risk collateral due to their vulnerability to damage and the cost of repairs, which means lenders need to be confident in their investments. Get pre-approved for financing to help set a budget and to position yourself with a strong offer when we find the right boat.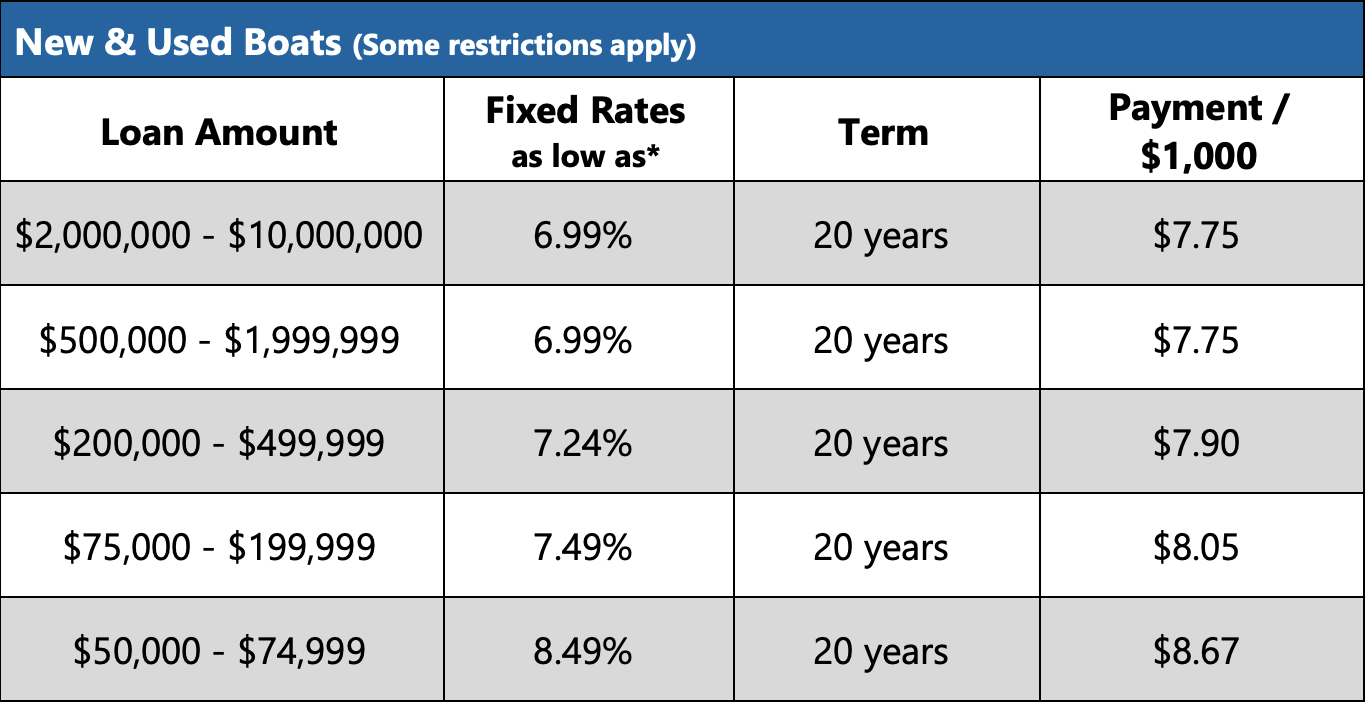 Budget
When purchasing a sailboat, your budget can be divided into acquisition and carrying costs. The acquisition costs are fairly straightforward and consist of the purchase price, survey fees, tax, and registration. Determining the carrying cost is more of an art than a science, but doing homework before searching for a boat will help tighten our search criteria.  Annual boating expenses vary greatly depending on age, size, condition, location, and use.
Acquisition Cost
Price and Deposit: When purchasing a used sailboat, there are some expenses to consider in addition to the agreed price of the boat itself. First, you must pay a 10% refundable deposit with your accepted offer (this is part of the total cost of the boat). There are no test sails or surveys without a signed purchase agreement and deposit. If you choose to finance, the bank will likely require an additional 10% of the purchase price due at closing.
Survey and Test Run
A surveyor's fee can range from $30 to $35 per linear foot of the boat's length

The cost of launching and/or hauling the boat for the inspection can range from $10 to $20 per linear foot of the boat's overall length, depending if the boat is in or out of the water
Tax and Registration
All sales have a fee of $250 for processing closing paperwork, which includes the registration/title fee in Maryland

A fee of $25 for an Abstract of Title if the boat is USCG documented

A fee of approximately $75 for de-flagging if the vessel is USCG Documented and is being foreign registered

A USCG documentation fee, which can range from $675 to $775 and may be required by the lender or requested by the buyer
Other Costs
Temporary storage for the boat until you can move it

Insurance for the boat – More on this below

The cost of transportation, if the boat is being moved by truck, captain, or shipped to a foreign port
Factors Affecting  Costs of Owning a Boat
Age
Two well-cared-for boats of the same make and model, three years old and ten years old, will have different carrying costs. Both will require the same routine maintenance of bottom paint, waxing, and engine service. The newer boat will have a higher purchase price, and the older boat will have a lower purchase price but higher carrying cost as upgrades are required: new bottom job, new canvas, update the electronics, new sail, etc. Despite the newer boat's higher purchase price, the true cost of ownership might be closer than the initial comparison would appear. The age of the boat also matters for your exit plan. If you keep the boat for four to seven years, as most people do, and only do the general required maintenance. What will that 10-year-old canvas look like at 15 years old compared to the 8-year-old canvas on the 3-year-old boat? What will that do to the boat's value and your ability to sell in the future? Regular maintenance and improvements are key for meeting your goals and retaining value.
Size
Size matters when it comes to setting a boat budget! In general, larger boats cost more to operate. They have more complex systems, higher gauge rigging, and larger engines. A 50′ sailboat may have four air conditioning units compared to two units on a 40′ boat. A new mainsail on a 40′ boat may run $4,500 compared to $10,000 on a 50′ boat. Many services, like painting, detailing, haulouts, and land storage, are charged by foot and will obviously cost more than on a smaller boat. Marina storage is also significantly more expensive as the size of the boat increases based on supply and demand. There simply are fewer larger slips. Choosing an older boat may afford you to buy a larger boat because the purchase price is lower, but you must take into consideration the entire cost of ownership.
Condition
When we look at boats, we will quickly see that there are many different levels of caring for a boat. We may see a 10-year-old, single-owner boat that has been lovingly cared for and updated and we may see a 5-year-old boat that has been chartered in the BVI and is in need of some serious TLC. You can expect the value of the older, well-kept boat to be at the top of the comparables and the charter boat to (ask top dollar
) sell at the low end of the comparables. Understanding your goals, skill set, and priorities, as discussed in Step 1, will help us determine what condition is appropriate for you and your budget.
Advice* – Buy the newest, smallest, best-condition boat that meets most of your needs. 
Location
There are two location factors to consider when budgeting for your boat. Where is the boat, and where will the boat live? The boat's current location can add unnecessary expense to the acquisition cost if it is far away. For example, if you live on the US east coast and are considering purchasing a boat on the west coast. The cost of trucking or sailing the vessel from the west coast to the east coast may or may not be worth it, depending on the rarity of the boat.  Latitude also plays role in determining the budget. East coast boats tend to be less expensive the further south you go. The reason is the length of the season and the wear and tear you can expect to find. Boats from more northern latitudes have a 4-5 month season and are often stored indoors for the winter, and Florida boats have a 12-month season with the full sun beating down on the decks and canvas. They usually have higher engine hours and more wear and tear.
You can affect your budget by choosing where to keep your boat. A top-tier marina with access to a haulout, full-service facilities, vendors on site, restaurants, a pool, and nightlife costs a premium compared to a mom-and-pop marina a few miles away with a dock, electricity, showers, and a picnic table.  You can search for marinas by going to the Resources page and searching on Active Captain
Insurance
When shopping for a sailboat, it's not just about finding the right boat – it's also important to consider whether you have the qualifications to own and operate the boat you have your eye on. Depending on your sailing experience and boat ownership history, you may not qualify for certain boats or trips that you have planned. This is another important reason to speak with a marine insurance specialist before making a purchase. Here are a few factors to consider when determining whether you are qualified to own and operate a sailboat:
Sailing experience
If you are a relatively new sailor, it's important to be realistic about your abilities and limitations. Some boats are more difficult to handle than others, and it's important to choose a boat that you are capable of safely operating. A marine insurance specialist can help you understand the risks associated with different types of boats and can advise you on the sailing experience required to operate them safely.
Boat ownership history
If you have little or no boat ownership history, you may find it more difficult to qualify for certain boats or trips. A marine insurance specialist can advise you on what qualifications you may need to meet in order to qualify for the boat or trip you have in mind. For example, you may financialy qualify to buy the $1,000,000 catamaran you have your eye on, but the insurance companies may require a captain to sail with you for a significant amount of time and to sign off on your experience. That's good to know in advance!
Legal Requirements
In some cases, there may be legal requirements that you need to meet in order to own and operate a sailboat. For example, you may need to obtain a boating license. A marine insurance specialist can help you understand your area's legal requirements and advise you on what steps you may need to take to meet them.
In conclusion, it's important to consider your qualifications and sailing experience when shopping for a sailboat. Depending on your experience level and boat ownership history, you may not qualify for certain boats or trips you have planned. By speaking with a marine insurance specialist, you can better understand the qualifications you need to meet and make a more informed decision about the sailboat you choose to purchase. You can begin the insurance conversation by contacting Jon Horton at Jack Martin and Associates Insurance. Additional insurance options are available on the Resources Page.